Dear visitors,

In my practice I can deal with a wide range of problems as diseases of gastrointestinal system, liver, kidneys, thyroid, as well as metabolic disorders such as diabetes. The capacity for a detailed health check up is readily available. If needed, ultrasound of internal organs can be performed.
As a consultant in the Intensive Care Unit (ICU) at IASO Hospital I can personally take care of you at the hospital ward or at the ICU.
I'm interested in alternative therapies and in particular I use nutritional supplementation and herbal therapies.

I can perform home visits upon request.
I look forward to welcoming you to our practice.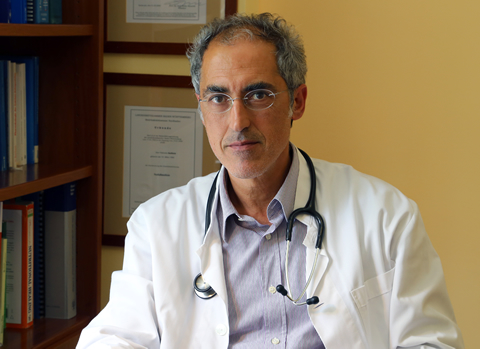 Language skills
English, German, Greek
Sokratis Kallitsis was born in Athens. Married with Claudia Schiementz, they have two children.

Education
1971 - 1977 Ziridis School, Athens
1977 - 1983 Deutsche Schule, Athens

University studies
1984 -1991 Medical School University of Heidelberg

Professional career
1992 - 1997 Registrar- Department of Internal Medicine, Hospital Worm, Germany
1995 Boards- Emergency Medicine
1996 - 2000 On Calls at the German Red Cross Service
1997 - 1998 Registrar-Radiological Clinik, Frankenthal, Germany
1998 - 1999 Registar- Department of Internal Medicine University of Heidelberg, St. Vincentius Hospital
2000 Boards- Internal Medicine by the State Medical Association of Baden-Wuertemberg, Germany
2001 - 2003 Consultant- ICU, Iatriko Kentro Hospital, Athens
2003 - 2019 Consultant-ICU and Collaborator Iaso General / Metropolitan General Hospital, Athens.
since 2001 Private Medical Practice in Athens
2019 - today Consultant- ICU and Collaborator Iaso, Athens
Military Service
1998 Poros and Amfialis
2000 - 2001 Salaminas